All Metals Recycling in Madison WI Will Pay Cash for Cars & Metal Recycling
All Metals Recycling on Park St. in Madison is your Recycling Center for everything metal. Family owned and operated for over 30 years, our scrap metal and salvage yard is centrally located, just 6 short blocks north of the Beltline Highway (US 12/18).
Specializing in junk cars and scrap metal recycling for home AND business, our services include:
Benefits of Metal Recycling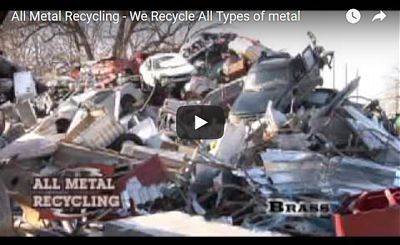 Recycling enables a variety of materials to be re-used or re-purposed, enabling YOU to help make a positive impact on the environment as well as provide the following benefits!
Saves energy

Extracting metals from ore is extremely energy intensive. Recycling scrap steel uses 75% less energy to process than iron ore.
Recycling aluminum uses 95% less energy. Recycling just one aluminum soda can save enough energy to power a 60-watt light bulb for 4 hours!

Conserves Resources

Recycling scrap metal conserves important natural resources including iron ore, coal, limestone, and even water.

Prevents Waste

The scrap metal recycling industry diverts 145 million tons of metal from landfills each year.

Reduces Pollution

Recycling scrap metal reduces greenhouse gas emissions, noxious emissions, and acid mine drainage (a form of water pollution).
So get paid for helping the environment!
Contact us or call All Metals Recycling at 608-255-0960 to arrange for your junk car removal or dumpster rental, or for current metal prices and any other questions you may have. We're here to help!